I've learned that you don't speak highly of one product by bad mouthing another. That being said, my jeep originally had Metalcloak 2.5" True Dual Rate Suspension, which is a well known suspension company among jeepers. The suspension gave me more than enough flex and was built solid but of course that wasn't the cause for my need to switch suspensions. I felt my "Overland" style build wasn't really something metalcloak dual rate was made to handle.
Why the Switch?
After months of traveling in the new build, I had added so much weight that I soon realized my jeep wasn't handling the weight so well. The extra weight added to my vehicle caused for noticeable sagging which took away from my suspension's true performance. Everytime I packed up for a trip my jeep looked as if it was ready for lift-off with the nose up and rear sagging. Jeep Wranglers have one of the biggest aftermarket parts support; if you can dream it you can probably buy it and add it to your jeep. That being said, it's only natural for us Jeepers to want to add every bell and whistle to their rig. If I didn't add so much weight to it then I'm sure the suspension I had would have been fine but for my application I felt the need for a change. I knew I had to change something before I caused damage to my jeep. Originally, I was planning to just upgrade shocks. Of course, I knew that even with new shocks I'd still need springs that could help out with the sagging in the rear. If you owned a jeep you'd know a common problem among wranglers suspension is rear sagging due to having a heavy bumper, swing out tailgate with oversized spare tire and not to mention cargo space packed like a game of Tetris. I looked for a solution to my problem which is where I came across Teraflex Outback suspension system. What caught my eye among the many suspensions on the market was their Outback Springs which featured custom load-enhanced heavy-duty rate coil springs. The Outback coil springs received special consideration and attention concerning spring rate tuning and development. Dedicated overland travel requires the use of specific spring rates suited to heavy loads and continuous mechanical resonance that react differently than 'standard' coil spring rates. TeraFlex engineered load-enhanced heavy-duty spring rate coils to meet the performance demands of a fully loaded Jeep and maintain the lift height. These coil springs are shot peened to reduce spring sag and fatigue, and increase coil spring life. This was the answer to my prayers, everything you'd need when it comes to jeeps that are made to overland.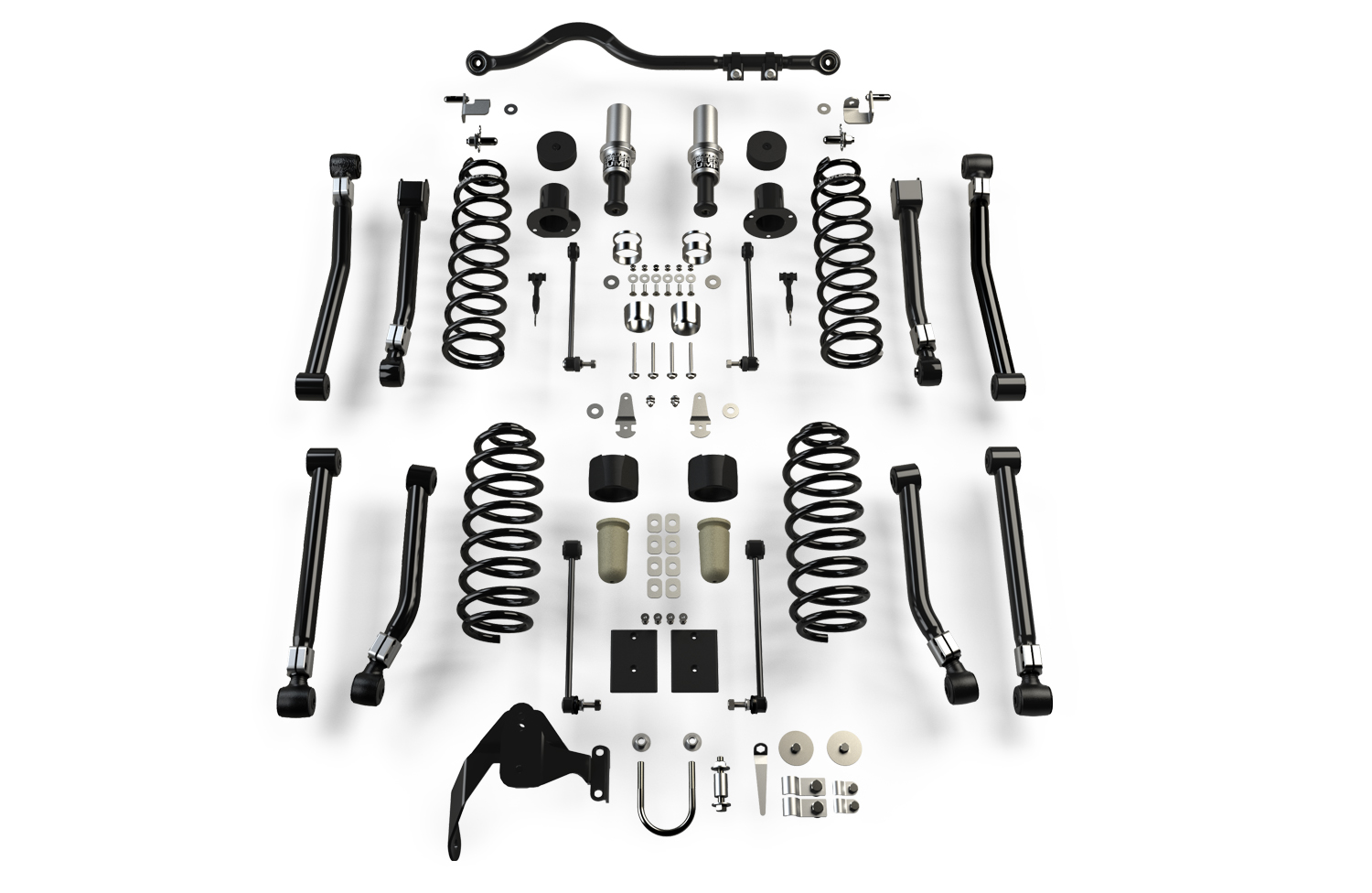 Outback suspension comprises of:
The TeraFlex JK/JKU 8-Arm Adjustable Alpine Flexarm Kit (2-4" Lift)
3" OutBack lift load-enhanced heavy-duty rate coil springs
HD forged adjustable front track bar
Speed Bump bump stops
Front brake line anchor kit
Front sway bar disconnects
Rear track bar bracket
Rear sway bar links
HD limit straps
Coil spring retainers
Exhaust spacers
Additional gusseting & reinforced bracketry
All necessary hardware
And Stickers!!!
With Suspension figured out, the next item on my list was shocks. The Falcon Series 3.3 Fast Adjust Piggyback Shocks seemed to be sweeping the jeep market. Almost everywhere I looked jeepers were making the switch to these shocks. I had personally seen great results from friends who owned them to fellow jeepers online who had similar builds as mine. The overwhelming majority of jeepers who owned them suggested getting these shocks! It's one thing to see pictures online but when you're out exploring and witness your buddies suspension performing flawlessly through trails, the product practically sells itself.
In the past, I had ran Fox shocks with external reservoirs, Old Man EMU shock and of course the rubicon factory shocks but none came even close to Falcon shocks. One thing that makes these shocks stand out more than any other shock is how they look mounted to the vehicle. They're designed specifically for the Jeep Wrangler. You'll notice the front shocks include the reservoirs in a piggy back design. Because of this, the shock to reservoir oil transfer is greatly improved with up to 6X more flow over traditional shocks with a pressure hose to an external reservoir. The rear shocks stand out as they are mounted with the shaft on top and the shock/reservoir on the bottom. The benefits to this is added protection to the shaft by keeping it out of harm's way, reducing the risk of damage and a better fitment with other components of the jeep's suspension. After much research, I was set on getting Falcon shocks. It only made sense to combine Teraflex Outback Kit with Falcon Shocks since they're designed to work together to improve both compression and rebound for optimal vehicle stability.
Tested Tried and True
After putting the Teraflex Outback suspension in combination with the Falcon 3.3 Piggyback shocks through the gauntlet for more than a year now, I can honestly tell you that the suspension has held up and proven itself more than worthy. I know some people may have concerns with running a 3" lift with 37" tires but thanks to my MCE fenders, that hasn't been an issue. I've logged over 16,000 miles on 37" BFG KM3 tires through a variety of terrains; I have yet to find a situation or terrain where I felt my suspension would keep me from going further. Aside from the suspension looking good under the jeep, it also performs to the degree you expect it to! It performs so well you forget about it! Now, I know that sounds contradicting, but when this suspension does what its made to do it's one less thing to worry about. When it came to reliability, the suspension components were designed with that in mind. The Alpine Flex Arms feature dependable and maintenance-free bushings which, when you're out in the middle of nowhere, features like this are exactly what you'd want.

The game changing component to this suspension is the Teraflex HD Springs. These 3" springs really do hold their own and made a difference unlike many other springs. I've experienced other springs that are 3" or 3.5" but when it came time to loading up the jeep, that 3" lift in the rear now looks like a 2" lift. One thing to note is because these HD springs are load-enhanced rated, a firmer ride will be experienced on an empty payload. An empty payload for me is rare but fortunately, since I went with the falcon 3.3 adjustable shocks, I can adjust my shocks on the fly. If I chose to remove everything out of my jeep to then experience an empty payload, having the option to adjust the shocks to a soft setting really negates that stiff feeling. I've also noticed I no longer have sagging issues like I previously did even though I've added more weight. By far, my favorite component of this suspension is the Falcon Piggyback Shocks. I opted to go with the 3.3 model over the newly released 3.4 model due to the amount of weight I would carry in the rear of my jeep. To elaborate on the difference between the two, the 3.3 model shock features a three-position Fast Adjust Knob to change the damping settings from (1) soft to (3) firm. The middle (2) setting incorporates an eight-position Micro Adjust Dial for more precise tuning between soft and firm, where as the 3.4 model, has air-controlled adjustability via a switch inside the cab of the jeep with only two settings: Soft/Firm. Personally, I like to have the rear suspension a bit stiffer than the front. After playing with settings for a fair amount of time, I'm happy with a 2.4 setting in the front and a 2.8 setting in the rear for long distance drives. When I'm off-roading, I do switch my suspension to a firm (3) setting. The difference between the settings is definitely night and day. Having the option to go from a (1) being very plush almost OEM ride to a (3) firm yet responsive setting at a turn of a dial is almost too good to be true but the folks at Falcon have got it figured out.
Overall, I've been extremely pleased with my choice in suspension for this build. I've put at least 16,000 miles on this suspension and it has yet to let me down. I'm still very cautious as to how much weight I add to my jeep as it's very easy to be over the vehicle's gross weight rating. Currently, when my Jeep is fully loaded for an adventure it holds 34 Gal of gas, 8 Gal of water, two separate fridges: a 42-Liter and 12-Liter, and enough gear to get you through all your glamping needs. The Jeep weighs in at 6,286 GVW. Having a suspension that can handle all this weight while still being able to articulate and flex through difficult trails just to get you to that hard-to-reach camping spot, is priceless.