I first purchased the Vector Off road Full Width Dock as a solution to hold many of the devices I owned, it's one of my favorite interior mods. Shortly after I purchased a bunch of ram mounts which worked nicely but didn't offer the range of motion I wanted. Checking out 67 design, I finally pulled the trigger on replacing my Ram Mounts for 67 Design mounts & arms.
The first thing I noticed is that unlike Ram mount arms, 67 Designs offers increased articulation. You're able to rotate both ends of clamps where as Ram arms is a fixed arm which only adjust from ball mounts that are attached. The second thing I notice is there's almost no play in the 67 designs arms. Ram mounts which uses rubber coated ball would tend to have some play even when fully tighten cause rattling. The 67 design ball is made from metal for strength with a semi-gloss black finish allowing for a sturdy hold.
If you compare the two images, you might not notice much of a difference at first glance but behind the wheel you'll notice a few things.
1. The improved visibility from not having the Inreach & sPOD screen blocking much of lower and upper windshield when using 67 design arms. 2. The orignal location of my screen hindered my use of the visor when I was using Ram Mounts.
Another must have was the 67 Design Universal Mount, I ditched the Ram X Grip style to this easier to use mount.
This solution offers:
360 degrees rotation on the 20mm ball for portrait or landscape orientation - or any place in between.

Simple one handed operation - not buttons to open or release the device. Just push one side away and move the phone back.

The side arms are curved so the phone is pushed to the back grip material.

Perfect for the iPhone 6 or iPhone 7 or iPhone 8 or iPhone X size devices.
If I tried to remove my iphone with one handed with the RAM X Grip my phone would for sure end up on the floor. The arms and swivel style ball clamps on 67 Designs allows for better articulation of the universal phone mount. I'm able to relocate my iphone at a lower angle away from the sun and not obstructing my view of the road.
So far I'm happy with my purchase, it doesn't hurt that these 67 Designs arms look as good as they're built. Let me know what you think. I know this set up isn't for everyone and some my cringe at the sight of so much stuff on my dash. Personally I don't mind it, I find it useful to be able to have what I need in plain sight without taking my eyes off the road.
I took this opportunity to replace my rear view mirror with a rear view camera since the visibility through my rear window is almost none at all. I set up this camera system as a Rear view camera, opposed to a backup camera that is only on when in reverse. I always have a view of my surroundings both day and night. The monitor only receives power when the vehicle is on and shuts off when keys are removed. I did this by wiring the monitors power off of my accessories switch. I T-Tapped the monitors + wire to the cigarette lighters + wire behind the dash.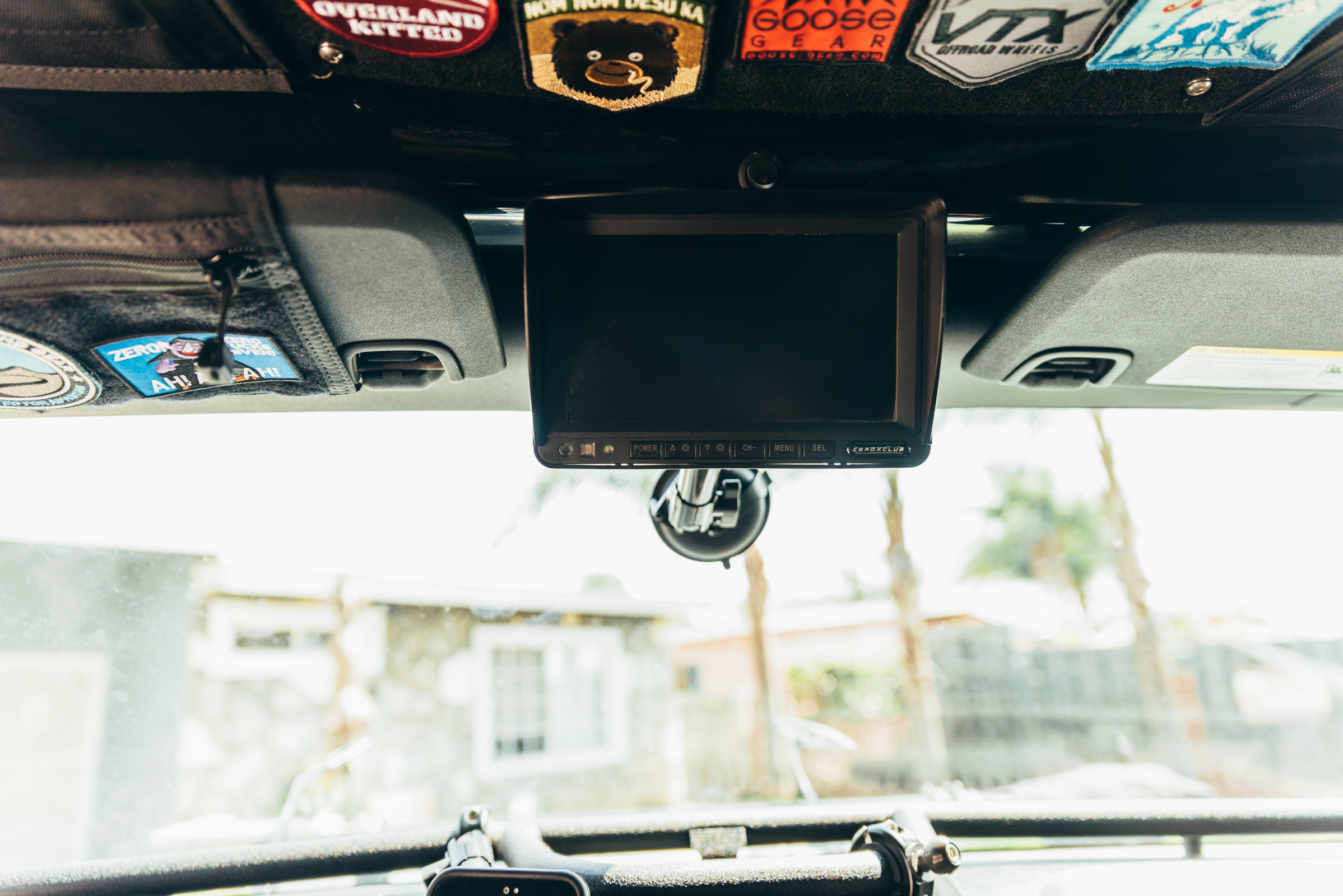 To run this similar setup I combined 67 Design suction cup mount also allowed me to raise the height of my monitor, higher up increasing my visibility and giving it a much cleaner and simplistic look. Besides it looking good, its feels solid and has yet to fall even on tough washboard roads. The monitor I'm running is called ZeroXClub, I purchased it off of Amazon. It had great reviews, the wireless option having 247+ reviews at 4.5 stars but I Opt for the WIRED Version. So far I'm happy with the results. If you do chose to purchase this product, I'd say do your own research to see what work best for you. I did some research and most monitor system on the market are being sold for $350-500+ for a very similar setup. I figured for $150.00 it was worth a try, also the seller has a 30-Day Money-Back Guarantee, 12-Month Replacement Warranty, and Lifetime Support.
Complete Setup Parts
(Click Thru Links)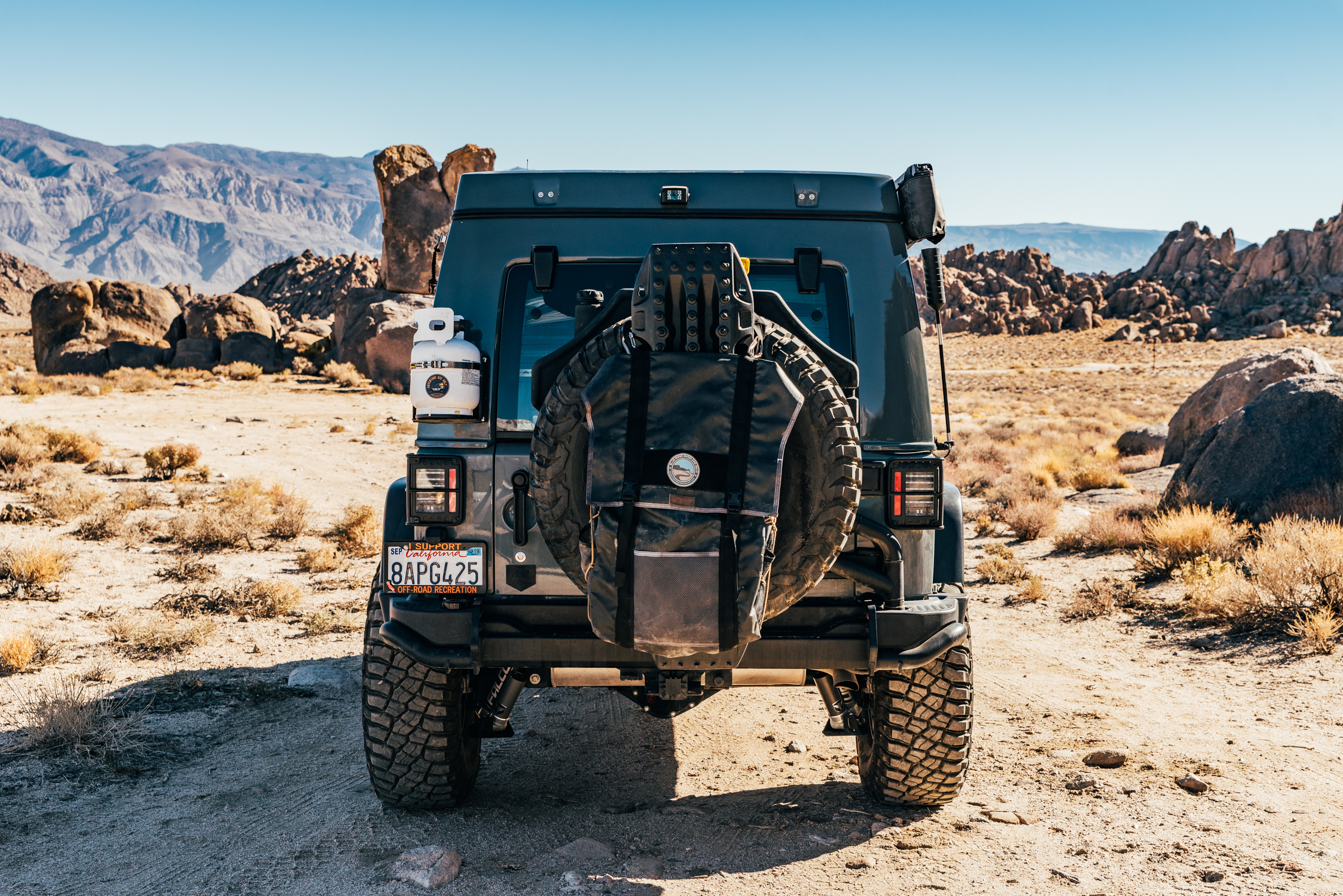 My mounting location has changed over the past few months but I've finally decided to permanent hard mount the camera on my top. I found this to be a great angle to see since the camera itself has a 140 deg viewing angle. I've been very pleased with the set up and if I would of known how well this setup worked I would of done this along time ago!
*UPDATED as of 3/29/19 AFTER SOME TESTING*
After some more tweaking and fine tuning a lot of things have changed to the Jeeps cockpit. Ultimately the biggest change you'll notice is I removed the Vector full width bar and went with the minimal look of a 67 Designs Dual Ball Mount. I no longer needed the full bar mount as I only have my phone and GPS mounted on my dash.
The other improvement to my cockpit area is I removed the suction cup mount that held up the rear view monitor and add a Hi-Vis Overland Hi-Line Dock as a new Mounting Solution. The product is made by @Hi.Vis.Overland. The dock easily bolts up to pre-existing threaded holes next to your visors. The dock gives you plenty of realestate to mount any of your devices above your head and off your dash. I used a Little Ball pack for flat surfaces and Medium Arm, allowing me to bring the monitor to the highest point, improving my visibility of the road. (The suction worked great and I'd still recommend you doing it this way if you're trying to keep this project under a budget)
I also relocated my sPOD Touch Screen to my headliner with a Little Ball pack for flat surfaces and Small Carbon fiber arm from 67 Designs. Overall, I'm much happier with how my new setup turned out plus my visibility increased dramatically even though it may look like I have tons of screens in my face. When you sit in the driver seat none of these screen obscure the view of the road. I'm always trying to improve my setup and figure out what works best for me, so far this has been proven to work.
Here's an Install Video I did of the JK Dual Ball Mount.
I'm much happier with this setup and how it functions. The total cost of this Rear view monitor and Suction Cup mounting solution was $204.74 which is still cheaper than most setups on the market. If you have any questions feel free to send them over! Visit www.67d.com to find what works for you. Thanks again